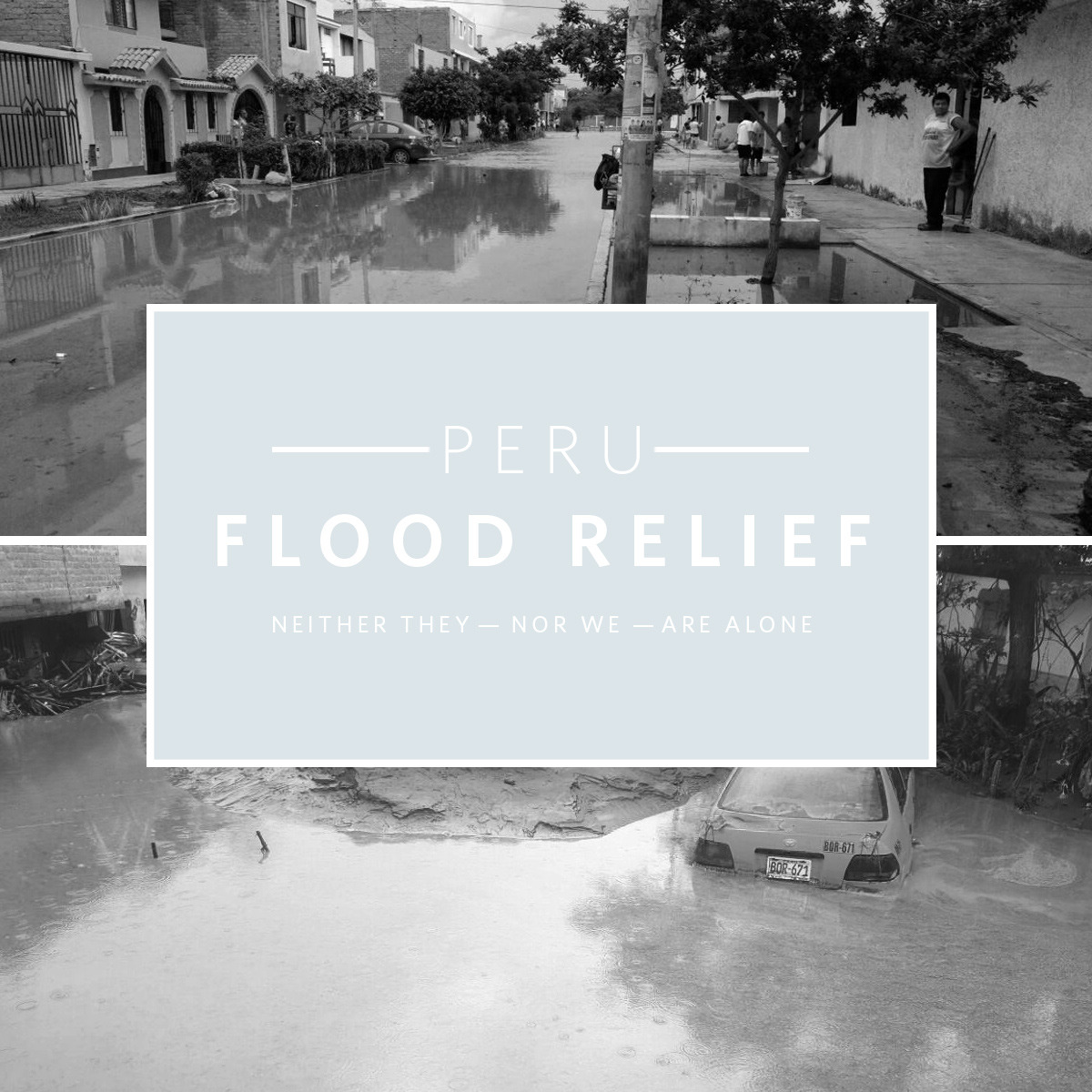 If you haven't heard, Peru is currently experiencing the worst flooding, and subsequent landslides, it has seen in over 30 years. More than 800 villages, towns, and cities have declared a state of emergency including our beloved Trujillo — home to our factory, its producers, and their families. More than 75 Peruvians have been killed and over 100,000 left homeless. Many more are left without clean drinking water and food as supplies dwindle, grocery store prices rise, and bridges all over the region collapse. 

4/5/17 UPDATE
Thank you to everyone who helped raise over $8,000 towards our Peru Flood Relief Fund!

Our producers are feeling the impact of your donations and commitment to restoring the Trujillo community. The unity of our Peru team is stronger than ever before, as we gathered together last weekend to go out and volunteer with the families who were most heavily affected by flooding.
 
Most of our team members have been without running water for weeks, and your donations have made it possible for us to purchase water tanks for families, in addition to food and other instant relief items. We've also had the opportunity to work with a local doctor, Keila, who has volunteered time to visit our producers and their families to offer preventative health education. With so much standing water, dengue and other bacterial diseases have become more widespread. Keila is offering trainings in our factory this week to reduce the risk of infection.

Thank you for your kind and generous donations and for all the love and support you've given to our team in Peru.

Nisolo translates into English as neither they — nor we — are alone.
If you're able to join our efforts, here are a few ways TO HELP NISOLO producers, their families, and communitIES.
Give directly to our Peru Flood Relief Effort. We're hoping to raise $5,000 to provide food, clean water, building supplies, such as aluminum roofing and beams, and clothing.

100% of your donation will go directly to the aid of Nisolo producers, their families, and communities.


   
Purchase from Nisolo from now through March 31 and 10% of profits will go directly to the Peru Flood Relief Effort. 
 
We realize not everyone is able to offer financial support — your continued support through spreading awareness is so valuable. Sharing with your friends and family can go a long way. 
 
We ask for your patience and understanding during this time as we're not sure what this will mean for our production schedule. We will send regular updates as we learn more.
We asked a few of our producers to share their current situations. Here's some of what they had to tell us.
"So much water has gotten into my home and the ground is totally covered in mud." Amparo, 34 years old.
"The walls of my home have taken in a lot of water. I'm afraid my house could fall down at any moment." Emili, 19 years old
"I had to sell my ducks to get enough money for food. I'm thinking about selling my pig but the price is very low. I have 5 children and 3 are very young." - Marleny, 39 years old
It's a privilege and honor to work with the talented, hard working people of Trujillo. 
Your support means the world.
Patrick Woodyard
Co-Founder and CEO