It's true, there's no shortage of city guides when it comes to this great city, but our team has a few hidden gems to share that we think any visitor (or local) would enjoy.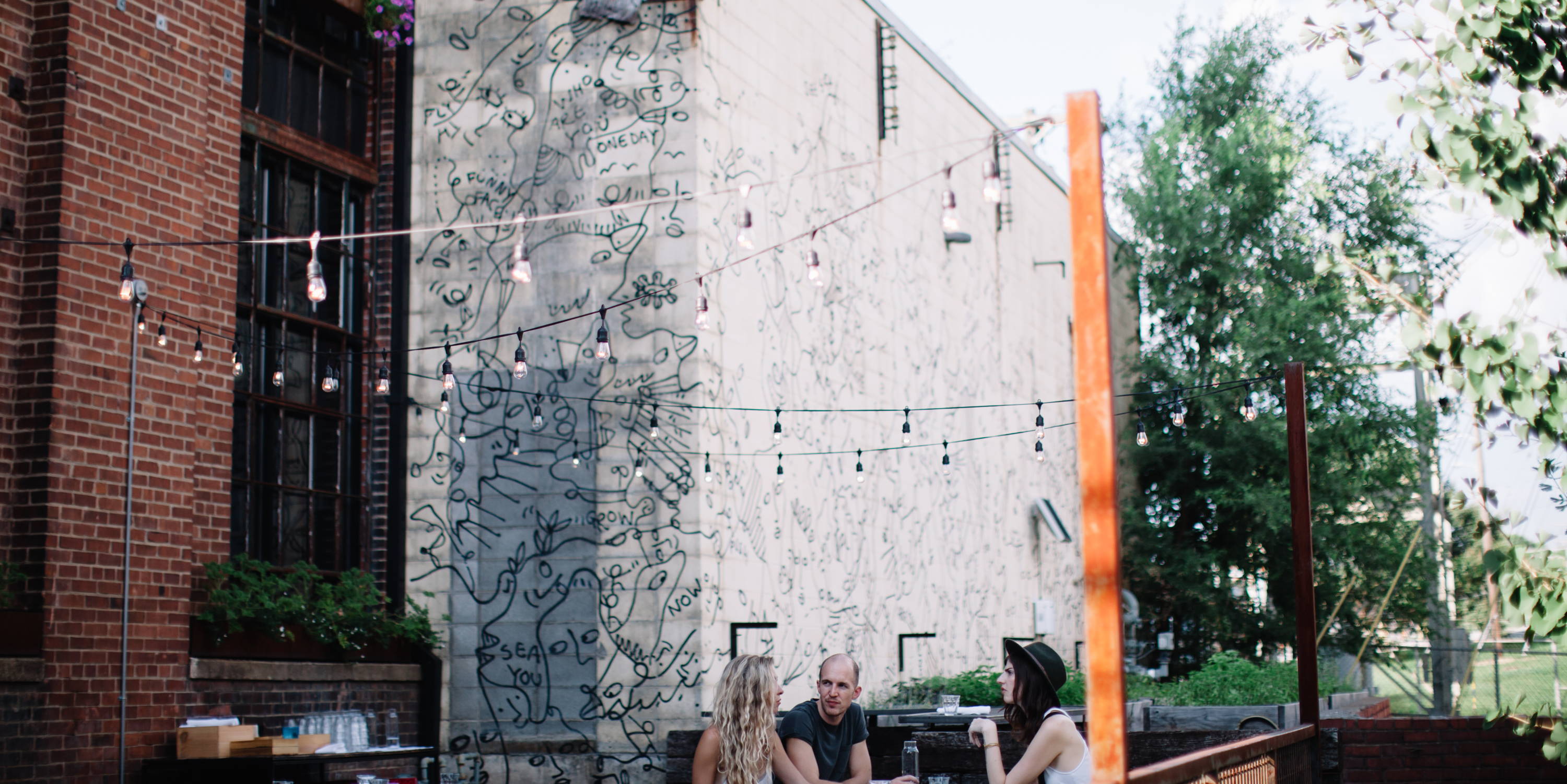 Cheers!
Dee's Country Cocktail Lounge - An authentic honky tonk in Madison on the outskirts of Nashville, Dee's showcases great, local music at an amazing price. Plus, when you walk in it feels like you're in another era––you'll have to see it for yourself. Pro tip: order a Frito Pie.

Tailgate Brewery, West Nashville location - Their tap room is a family friendly environment offering board and video games inside and a big barn out back, complete with cornhole boards and disc golf holes. With over 30 awesome and unique batch beers on tap, delicious pizza and sandwiches on the menu, and entertainment options for the kids, it's a great spot for the young and young at heart!

Corsair Distillery - Local, world-renowned experimental whiskey distiller. Triple Smoke Whiskey is a staple in any whiskey lover's liquor cabinet. Fun fact––our friend Nick (husband extraordinaire to Becky, our VP of Operations) helped kick start the cocktail program several years back! They've now extended into brewing high gravity beers that are beyond amazing as well.

Mickey's - Easy stop on the eastside for a quick game of pool or darts. Protip: order pasta from Nicoletto's Italian Kitchen next door and bring it into the bar with you!
Lockeland Table - A great option for a cozy restaurant with comfort foods and great cocktails. We suggest their habanero infused cocktail and any vegetable or meat option on the menu cooked up southern style will melt in your mouth and leave you begging for one more bite. Call ahead to ensure you won't be waiting for a table for too long.
The Fox Bar and Cocktail Club - A relatively new to Nashville spot, this speakeasy is perfect for a fancy drink or two in a romantic, dimly lit atmosphere.
Honorable mentions: Bastion (nachos!), Patterson House (an old favorite around these parts,) and Josephine (gold star for their Bloody Mary with pickled okra).
Food Coma
Dino's - The perfect late night spot for great burgers, fries, and booze. The fish sandwich is also incredible. Pro tip: Order the Butcher Burger for local meat from the butcher shop next door.
Nicoletto's Pasta Co. - Their pasta is made fresh every morning. A go-to is their spinach fettuccine with pink sauce and the beef meatballs. They have a great late night menu, as well, for a hearty meal post drinks.
Wild Cow - One of the few vegetarian restaurants in town. A nourishing, satisfying and healthy food option when you need a break from all the fried chicken and beer. We suggest trying the lentil bowl over quinoa.
Slim & Husky's - Founded in 2017 by our neighbors and friends in historic North Nashville, Slim & Husky's is dedicated to giving back the the community while serving up some of the best damn pizza around. Protip: grab a S&H cinnamon roll down the road at their newly opened The Roll Out. You won't regret it, but you may need a nap afterward.
 
Epice - If you're new to town and you are looking for something walkable, giving the 12 South neighborhood a quick stroll is worth your time. Our CEO Patrick highly recommends going to the best hidden gem on the street: Epice. Epice is a spectacular Lebanese bistro with incredibly fresh food and drinks. Whether you're headed in for lunch or dinner, the atmosphere is beautiful, the service is always wonderful, and the wait is usually not bad at all.
Rolf & Daughters - A Nisolo favorite! Our head designer Zoe dreams about their Garganelli Verde, it's that good.

Honorable mentions: Big Al's (Little Al now owns this restaurant and we'll always eat whatever he's serving), Butcher & Bee (whipped feta and pita appetizer is worth a try), Tower Deli Market (East Nasty sandwhich if you're feeling spicy), Mas Tacos (tortilla soup and fried avocado taco are our go-tos), and Two Ten Jack.
The Great Outdoors
Shelby Bottoms - This park in East Nashville has miles of paved greenway along the Cumberland River that connects with an airport which has been converted into public space. You can a rent a bike in Shelby Park and cycle down the greenway. The best time to go is around golden hour in the fall or spring. Protip: be like our Impact Associate, Matt, and rollerblade down the greenway. It's a great way to clear the mind.
Radnor Lake or Percy Warner - A hike around Radnor Lake or Percy Warner are local favorites. Hike around the less crowded Beaman Park if you're looking for more solitude.
Cummins Falls- Home to some of the most beautiful waterfalls and swimming holes in Tennessee. (Protip: travel to Cummins Falls on a weekday to avoid the crowds.)

Cumberland Kayak – Rent kayaks and paddle down the Cumberland River for more of a downtown feel or up river to Mill Creek to escape the hustle and bustle of the city.

Honorable mentions: Spend a day at Centennial Park (bring a picnic, blanket, and your favorite book), rent bikes (start in Germantown then ride the greenway to downtown), play volleyball on the outdoor sand court at Wilhagans.
Our Daily Grind
Barista Parlor- If you enjoy pourover coffee and unique breakfast items, this is the coffee spot for you. While a drink might set you back $5-7, you can expect it to be perfectly made. Try the whiskey caramel latte if you're in the mood for something different.
 
Steadfast - Their drip coffee is great, but in the warmer months, their flash-chilled cold brew can't be beat. They're also laptop friendly for when you need to plug in and get some work done. (Protip: Matchless coffee soda. Try it.)
 
Crema- A great option for drip coffee. With everything roasted in house, Crema is an award winning national roaster, and sells their beans if you prefer to make your coffee at home.
 
Frothy Monkey - When your party is torn between a coffee spot and a wine bar, Frothy Monkey has it all. Come for a late lunch and stay for a full pour.
Honorable mentions: Fido, Sump Coffee, JJ's.
 We've talked before about how great this city is when it comes to independent fashion, so keep a look out for a comprehensive post all about Nashville shopping coming soon.

Let us know in the comments below which places you've been to and any other hidden gems we should have added to the list!