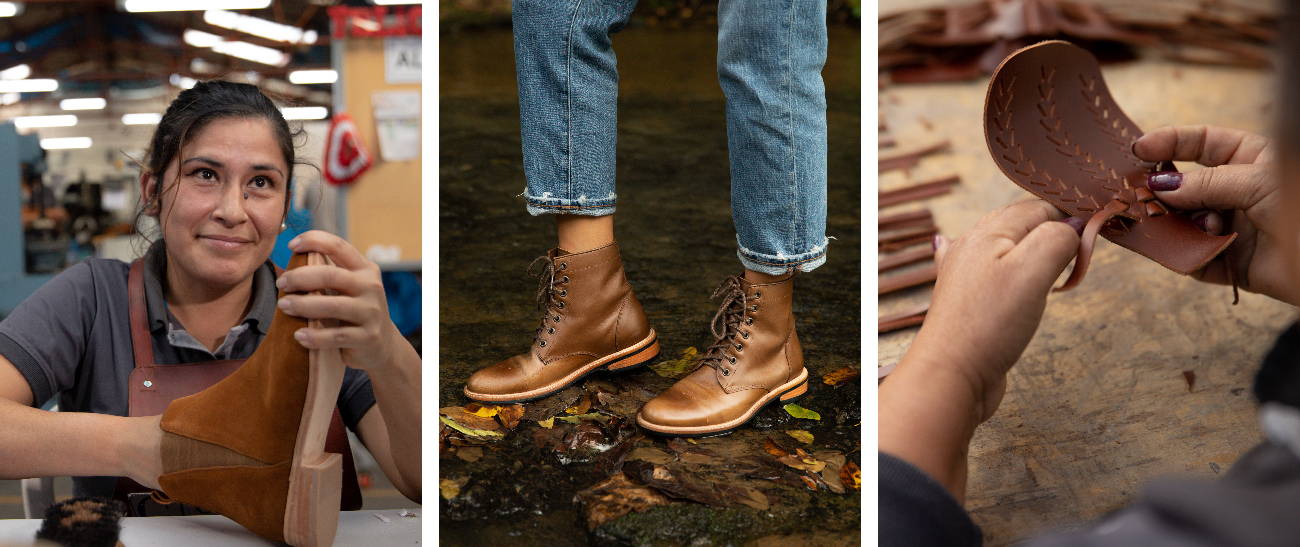 We envision the fashion industry serving as one of the most powerful conduits for social and environmental progress in existence today. We're still a ways away from realizing this ambitious vision for our industry, but because of you, we made significant strides in 2019 towards this exciting reality. We'd like to take a moment to acknowledge what happened last year in the fashion industry (the good and the bad,) and to celebrate the impact you've made possible for us at Nisolo.
"2019 was the year sustainability finally burst into the fashion mainstream." –Whitney Bauck, Senior Sustainability Reporter at Fashionista
More than ever before, the conversation around the social and environmental impact of our clothes and everyday purchases came to the forefront amongst industry leaders, policymakers, NGOs, consumers, and brands of all sizes (including the biggest offenders.) We witnessed a movement of brands committing to become carbon neutral. Several designers publicly recognized their role in reducing environmental waste. Progress was made in developing innovative, eco-friendly materials across numerous kinds of products. Secondhand shopping and recycling options became increasingly prevalent. And consumers began placing more value on shopping sustainably–75% of consumers view sustainability as extremely or very important, and more than a third of consumers report they have already switched from their preferred brand to another because it credibly stands for positive environmental and/or social practices (Source: Global Fashion Agenda, 2019.)

Yet amidst heightened consumer awareness and positive progress, the social and environmental state of the industry remains broken, and we hope to make progress toward our vision even faster in 2020 and beyond.
The day-to-day reality for the vast majority of the people who make our clothes is still bleak. According to Clean Clothes Campaign, 85% of large fast fashion brands surveyed in a 2014 study said that wages should be enough to meet workers' basic needs. In 2019, however, none of these brands could demonstrate that any workers outside of their corporate headquarter countries were being paid a living wage (Source: Clean Clothes Campaign, 2019.) In many cases, factory workers continue to operate in deadly working conditions, a hard truth to accept that became all too real this past December when 43 workers in Delhi, India were killed in a factory fire.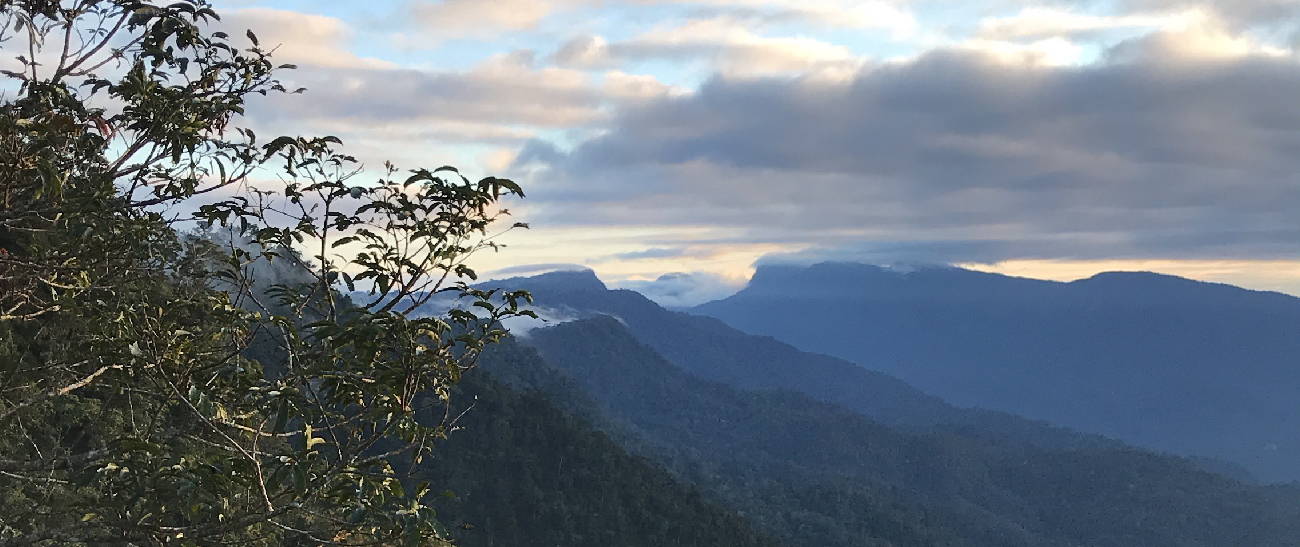 Fashion's footprint on the planet is not faring too well either.
Rampant wildfires in the Amazon last August (and now in Australia) garnered worldwide attention around the consequences of climate change, which is primarily caused by high volumes of CO2 and other greenhouse gases getting emitted into the atmosphere. More than 8% of total annual greenhouse gas emissions are produced by the apparel/footwear industry (Source: Quantis, 2018), and fashion is among the world's top five most polluting industries. We are purchasing and tossing out more clothes than ever–Americans are throwing away 81 pounds of clothing per person per year, much of which will take decades (and even centuries) to decompose (Source: McKinsey, 2016). A radical shift in the way we produce, consume, and dispose of our clothes is needed.
Alongside many of the industry's wins in 2019, Nisolo also made further progress toward shifting the fashion industry in a better, more sustainable direction.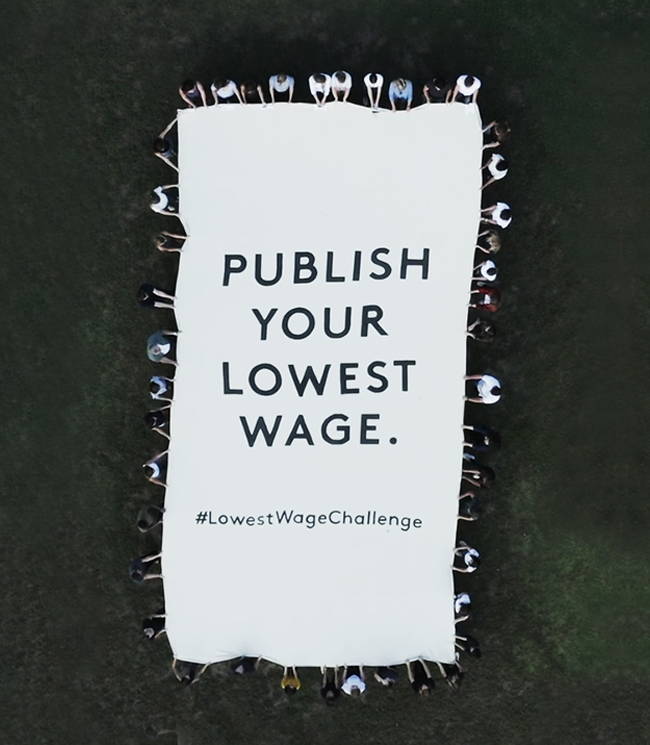 Last October, in partnership with ABLE, we became the first brand to publicly publish our international factory workers' lowest wages side-by-side with the living wage in the communities we source from. Then, we asked you to challenge other brands to follow suit, and you showed up with a loud response. Since launching the Lowest Wage Challenge in early November, you've nominated over 550 brands to share their lowest wage! We've been overwhelmed by the positive response of the challenge and are in communication with dozens of brands that have expressed interest in publishing their lowest wages later this year. Together, you've enabled us to spark a living wage movement that we hope will have a significant impact on the tens of millions of people who make our clothes.
Nisolo means "not alone." It's a tribute to the interdependence of relationships. We recognize that we cannot rewrite the way our fashion industry operates alone, which is why we developed an Ethical Marketplace with 21 partner brands that have signed our Code of Conduct and are aligned with our vision for the industry. Of these brand partners, five (alongside Nisolo) are certified B Corporations, and six are members of 1% For The Planet, meaning they give at least 1% of annual sales to environmental causes. All are committed to distinct forms of social and environmental impact, which include things like eliminating single-use plastics, ocean cleanup, conservation, sustainable agriculture, championing the work of independent artisans, advocating for living wages, and providing humanitarian medical aid. Central to the heart of each of our partners is a philanthropic business model that gives back to society and the environment more than it takes away. Every time you purchase something from our Ethical Marketplace, you amplify the impact of our partner brands and enable us to broaden our sustainability work in our own supply chain.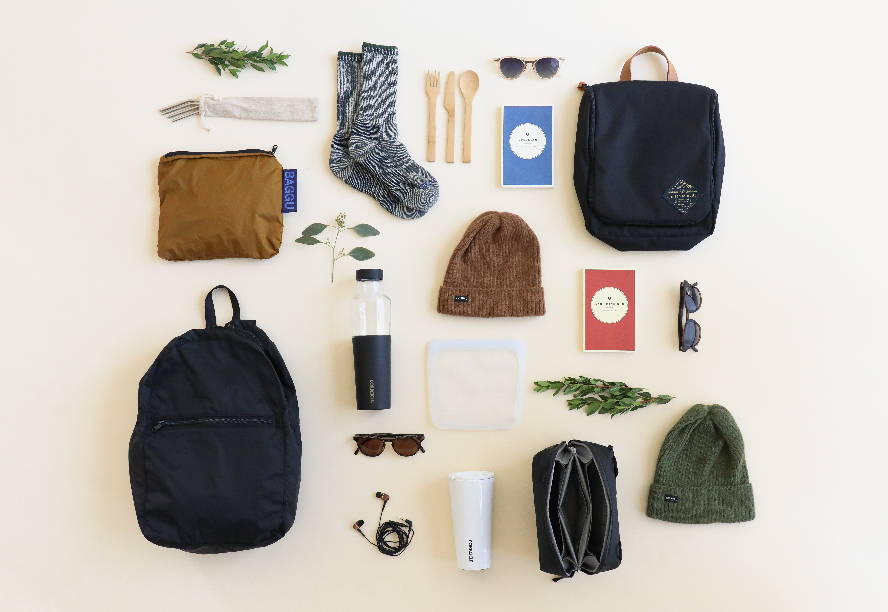 Through your Nisolo purchases, you've had a significant positive impact on people and the planet this year.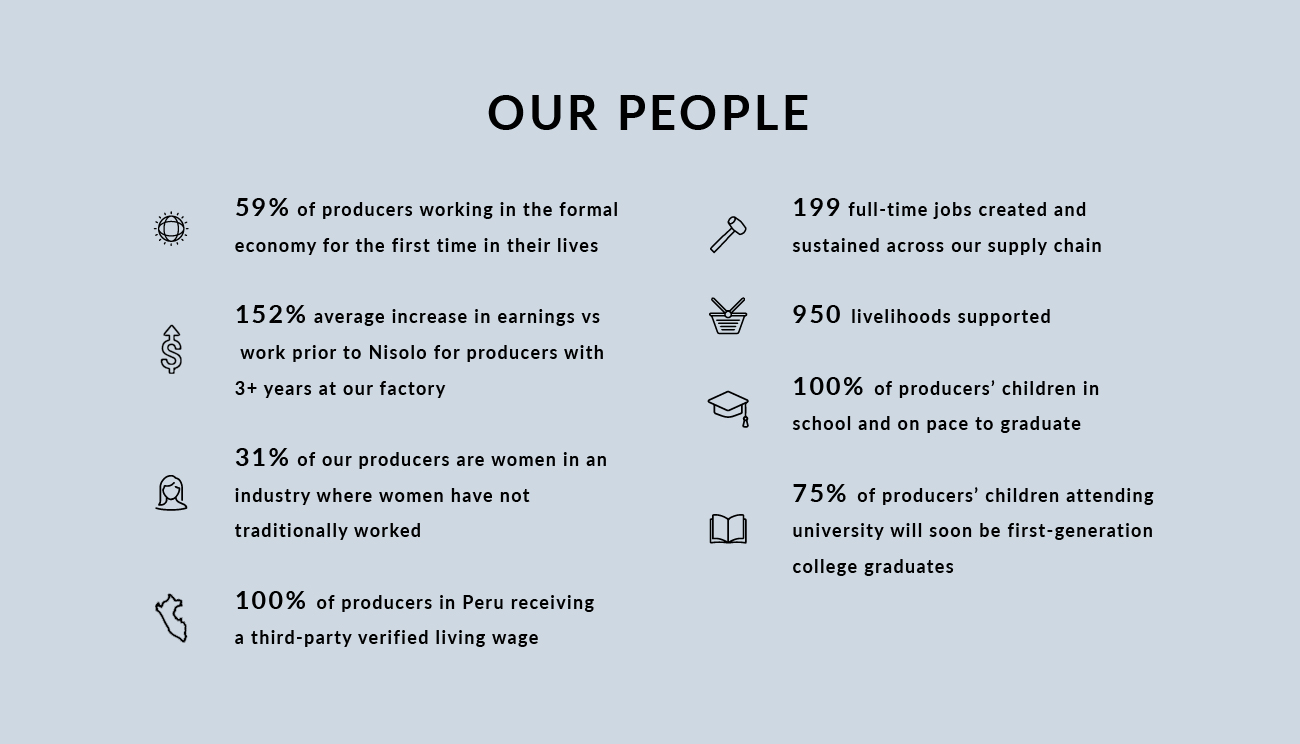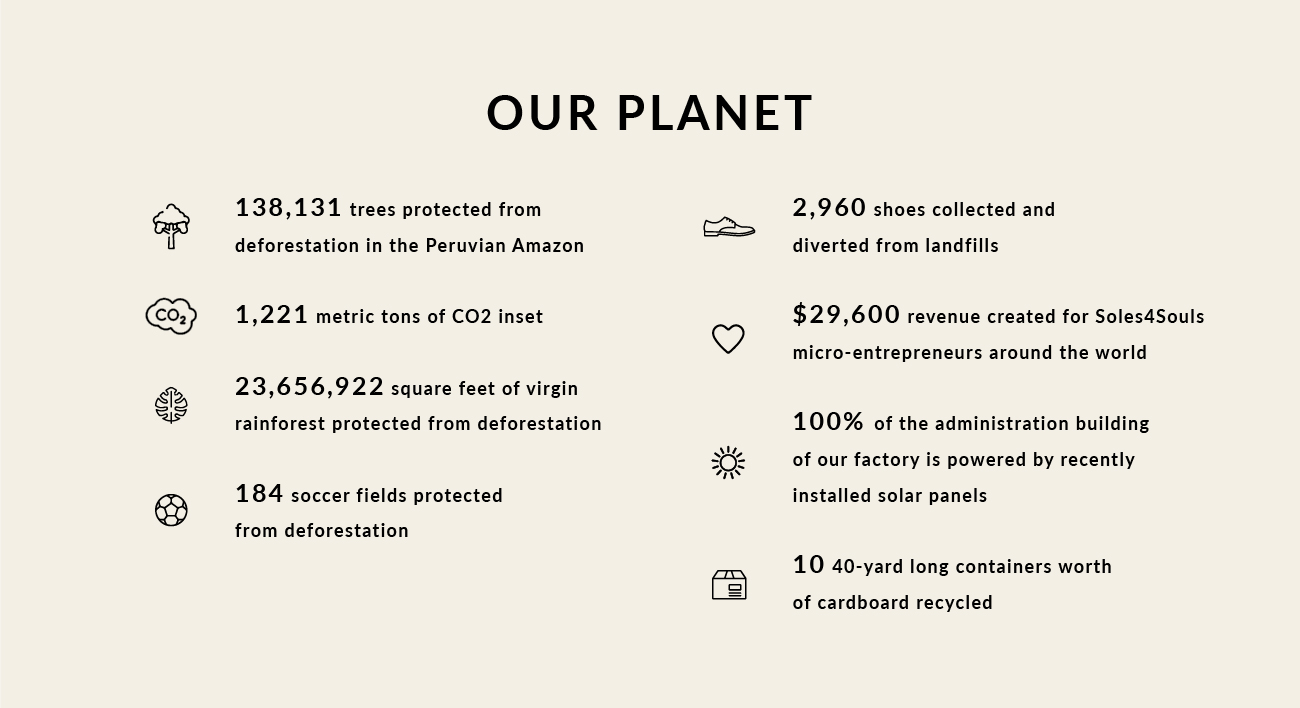 These numbers (that you have made possible) represent an impactful step in the right direction toward a more sustainable fashion industry. Environmentalist Gerald Amos famously said, "The most important right we have is the right to be responsible." Nisolo is far from perfect, and we do not have it all figured out. But we do have a deep conviction to do business responsibly and in a manner that uplifts people and the planet.

Thank you for making all of this possible in 2019. We have high hopes for 2020 and are grateful to be partnering with you on this journey to shift the fashion industry in a more sustainable direction.